DeanbyArts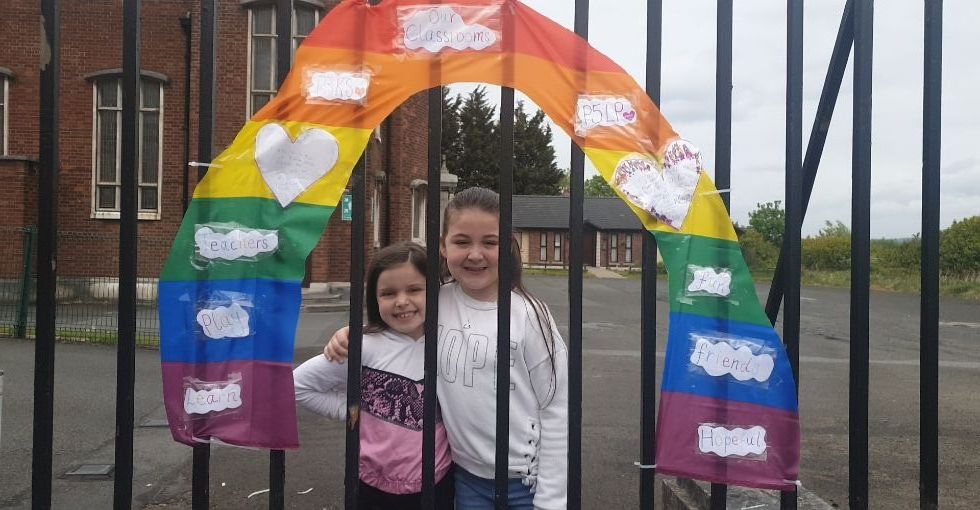 Wow! These sisters made a whole rainbow of hope for our school gates with messages for their classmates and teachers. Fabulous, girls! 🌈😊
Have you added your ribbon or message to the school gates like this brilliant girl? Check our school Facebook for details 🌈
Have you seen Miss O'Neill's new cookery video? Ben watched it and made a pizza quesadilla! He said it was delicious 😊
This was made for our video and many of #teamdeanby's staff are here! See if there is anyone you know 😊
Ben made a smoothie using Miss O'Neill's yummy recipe! Delicious!
🐺 "Then I'll huff, and I'll puff, and I'll blow your house in!" Fabulous crafting from our P2. Mrs Hale loves it 💕
And designing her own summer vest as well 😊
'Stay positive' is a great message 😁🌈
Have a look at the fantastic things this talented girl from Mrs Rooney's class has been doing. Cookery 🍕!
Art with the family too - what a lovely memory to make together
Baking! (Mmmm, chocolate!!)
Marv loves your arts and crafts, girls - Mrs McGoldrick found him working hard at the computer 😄😂
Strawberry smoothie, yum! Save some for us! ☺️
Outdoor painting in the spring sun ☀️ did you have a good time, girls?
Check out the year group winners of our Easter Bonnet competition!
Our PTA has this special message 🌈 stay home, stay safe
Another busy, creative girl with many talents! That's what #teamdeanby is all about 💕
A marble run made out of cardboard tubes - very creative! 😊
What a busy time for our lovely P6! Brilliant!
Yum, yum, that chocolate on top looks delicious 🍫
Brilliant building from our brilliant P5!
Fun in the sun ☀️😊 Looks great!
Such talent! This P6 is helping her dad in the kitchen. Doesn't she look professional? 😁
Our lovely P6 made a bug hotel 🐞🕷🦋
And thank you, Eimear B! 😊 Do you remember this from P6?
Some of you girls might recognise your art here! This is where I do my work, and I keep yours in sight. Art is a special gift 💕😊
Thank you, Sían! Pusheen watches me do all my digital art 😁
Our lovely P7 has been crafting in the sunshine ☀️ She has made vases with glass beads and sparkly stickers...
And done some rock painting too! Excellent art ☺️
Fab idea from Miss O'Neill! 🌈 If you don't have coloured paper you could colour in white paper instead with your own fab design 😊
Ben Bear has painted his very own Teddy-Bears' Picnic! Isn't he a fabulous artist?
Miss Hill loves your hatching chick, Macey! It must have taken a long time to make - great girl 🐣😁
Darcy, this is so cute and colourful and it made us all smile, thank you! 😊🌺
Annie Mooney built a castle fit for Rapunzel. Gorgeous, Annie 💐🌼💕
Google "The Wonder Gallery BBC" to see how your art could feature on their website! 😊
Beautiful outdoor art to start us off on Term 3 at DeanbyArts 😊🌈 Thank you to our lovely P7!
Welcome to DeanbyArts, the new part of our website where you can see all the wonderful, creative things that #TeamDeanby has been up to.

If you have drawn or painted something, made something or built something why not send in a photo? We would love to see what you have come up with. It might even give other girls an idea of what they can make at home!


***

Here's a little video to give you some drawing ideas if you're stuck!

Kids Art 'n' Crafts

Our Lady's Primary School, Deanby Gardens, Belfast BT14 6NN | Phone: (028) 9074 6325